The CROME Research Project - CROss-border Mobility for EVs
In search for answers to questions concerning electric-mobility infrastructure standardization (electric supply, cable connection, etc.) and electric mobility services issues (authentication, billing, roaming, reservation, etc.) in Europe, the CROME research project intends to provide and analyze French-German cross-border electric mobility solutions that are safe, reliable, and user-friendly.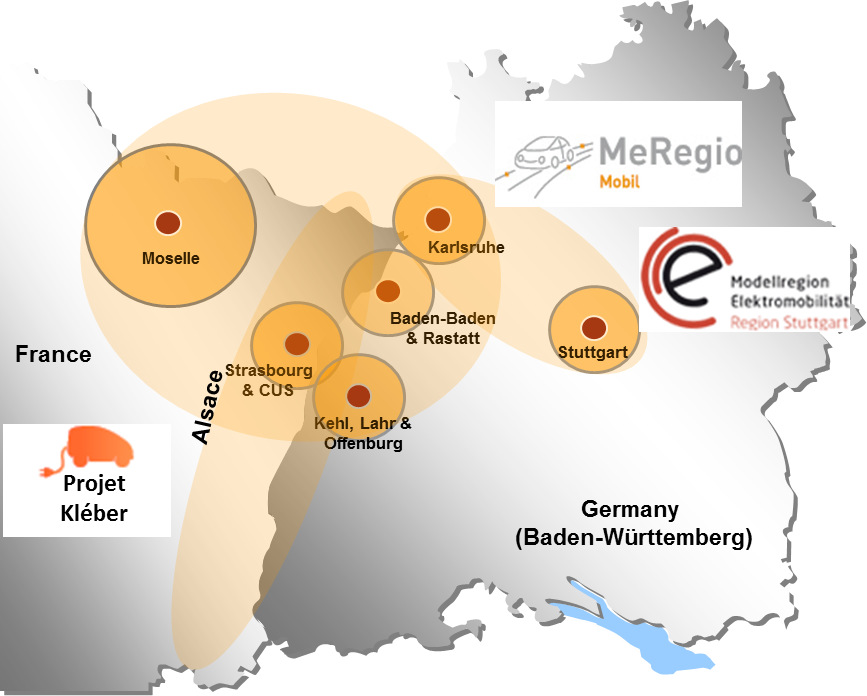 CROME und andere aktuelle Projekte in der Region.
The comprehensive objectives pursued within this joint project of French and German partners from research and industry comprise:
the demonstration of cross-border traffic with electric vehicles,
the design and testing of compatible cross-border charging infrastructures (charging plugs, charging cables, charging communication, access systems, services, etc.),
the testing of novel e-mobility concepts (roaming, etc.), and
the evaluation of cross-border user behavior.
The CROME research project is an initiative of several French and German ministries, i.e of Ministère de l'équipement, des transports et du logement (MESDTH), Ministère de l'économie, des finances et de l'industrie (MEFI), Ministère de l'Enseignement Supérieur et de la Recherche (MESR), the Federal Ministry of Economics and Technology (BMWi), the Federal Ministry of Transport, Building and Urban Development (BMVBS).